2019 Walk
September 15th, 2019 
Funds raised will help educate local teens and their families about mental health and suicide prevention.
We want to thank everyone who made the SPEAK UP Walk such a huge success. With our sponsors, donors, walkers and volunteers, we were able to raise $185,100. Over 1036 participants. Over 25 community resources. We can not wait to see you next year!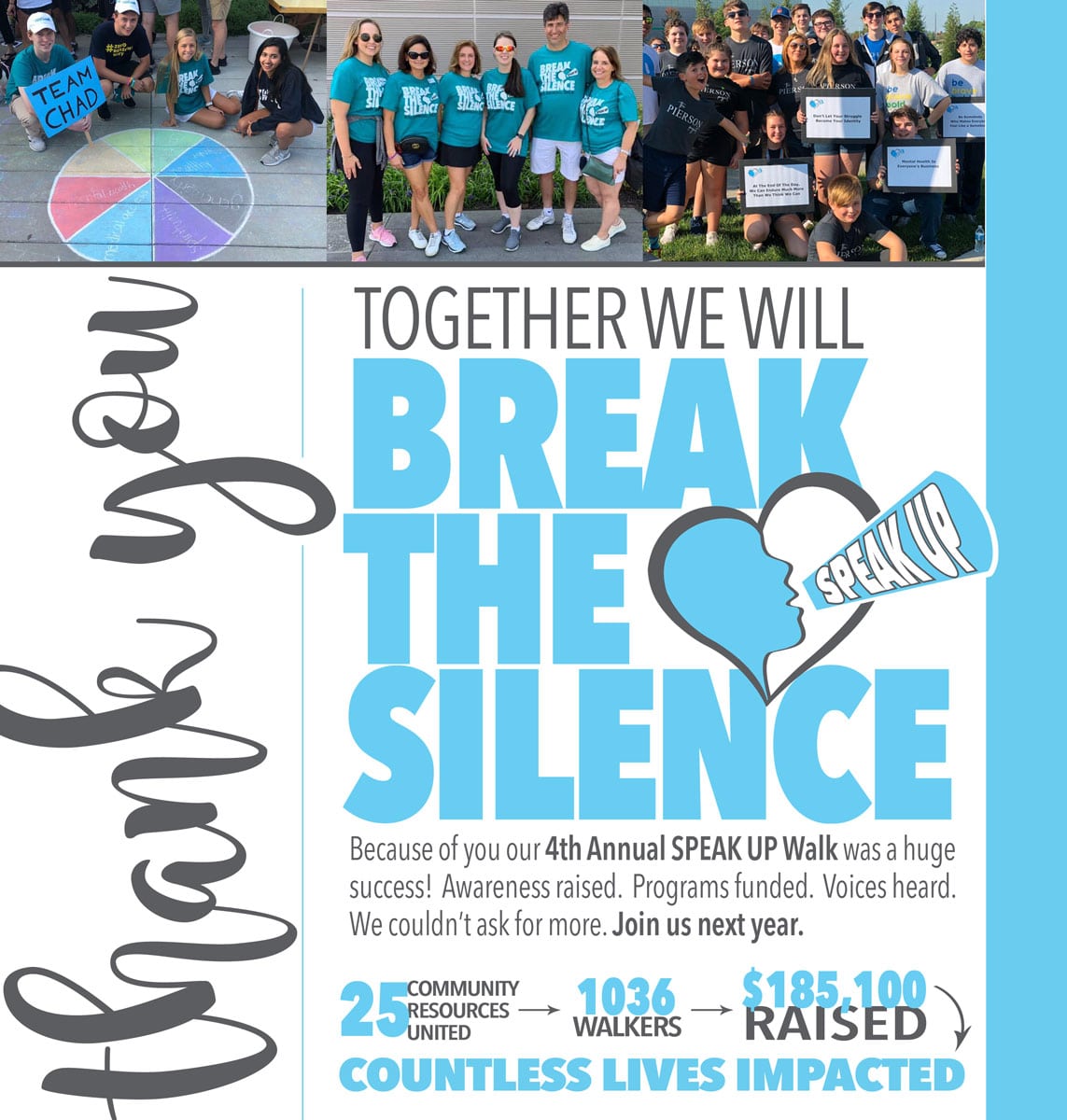 Can I still make donations after the walk? Absolutely!  Click here to donate.  You may also mail donations to SPEAK UP in care of Jewish Community Foundation of Greater Kansas City, C/O SPEAK UP 5801 W. 115th Street Suite 104, Overland Park, KS 66211. Be sure to put SPEAK UP in the memo line.
What will you do with my donation? Through your generosity SPEAK UP has the ability to provide the schools and communities in the area at no charge the following: provide guest speakers and presenters with lived experience to share the signs and symptoms of an individual at potential risk, share interventions on breaking the silence, starting the conversation, and increasing mental health literacy, decreasing the stigma, and thereby giving hope to that fewer lives will be lost. We are currently doing this through partnerships with Keep The Spark Alive where we will be bringing an evidence-based peer led program into schools within our community. The goals are to help teens understand that it is OK not to be everyone else's definition of perfect. We want to reach teens with a positive message of self-worth and value, as well as reinforce the idea that being yourself is good enough. Each school commits to a 3 year program which Speak Up covers the fees for the school to have program like Sources of Strength.
We want to thank our very generous sponsors!
Boyer Corporon Wealth Management, Bruce & Kelly Tieves, Burt & Sheli Rosenberg, Cogan & Power, Costentino's Market Blue Valley, Creative Concepts, DLR Group, Dr. Phuong L. Vuong, Fusion Inbound, Garmin International, Go Fund Me by William Hamilton, Henderson Engineers, HERLIFE MAGAZINE, In Memory of James Prideaux by Family & Friends, In Memory of Michael Davis by Family & Friends, Ironhorse Family & Cosmetic Dentistry / Dr. Laura's Orthodontics, Jeff & Lyndsey Dunn, Just 4 Schools, Kansas City Physician Partners, Inc., Keep the Spark Alive, Kendra Scott LLC, Kevin A. Dunn & Bob Legler, Lululemon ISA, Inc., Mikkelson Family Foundation, Mr. Richard Schwartz, Saint Luke's Marion Bloch, Neuroscience Institute, SASS MO-KAN, Stacey Saladin, Realtor, Keller Williams Reality Partners, The David and Libby Savner Family Fund, The Independent, Upchurch Family Foundation
2019 WALK RESOURCES
We would like to thank our volunteer resource tables for joining us for the walk this year. With out there services, many of our coummunity would feel alone. Thank you for all the work you do in helping save lives!
Sources of Strength hosted by Blue Valley North High School peer leaders ,BV Well, Caregivers on the Homefront, Comprehensive Mental Health Services, DBSA Depression Bipolar Support Alliance of Overland Park, Disney Family Therapy LLC, E3 Scholarship Fund, First Call Alcohol / Drug Prevention Recovery, Full Circle Program, JoCo Q-Space, Safe space for LGBTQ+ youth age 12-20., Johnson County Mental Health, Let Me Run, Mental Health America of the Heartland, Midwest Neurofeedback, #MINDSMATTER, NAMI JOCO, Pathway to Hope, Renew Counseling, Research Psychiatric Center, Resolve Counseling and Wellness, SASS-MoKan, Solace House program of Kansas City Hospice,Thalia House, The Braveheart Connection, University of Kansas Health Systems